Scented candles
come in two primary forms: container candles and pillar candles. Each type has its own set of characteristics and advantages. Here's an overview of the characteristics of scented candle containers and pillar candles:
Container Candles:
Container: As the name suggests, container candles are poured into a container or jar, which holds the wax and fragrance. These containers can be made of glass, metal, ceramic, or other materials. The container not only serves as a holder for the candle but also helps contain the melted wax and fragrance.
Convenience: Container candles are known for their convenience. They are easy to use and require minimal maintenance. You simply light the wick, and the candle burns within the container. This makes them popular for everyday use and as gifts.
Burn Time: Container candles typically have a longer burn time compared to pillar candles of the same size. The container helps regulate the burn, making the candle last longer.
Fragrance: Scented container candles often have a strong and consistent fragrance. The container traps the scent and allows it to slowly release as the candle burns, filling the room with a pleasant aroma.
Safety: Container candles are generally considered safer than pillar candles because the container prevents the wax from spilling or dripping onto surfaces.
Aesthetic Appeal: Container candles come in various shapes, sizes, and designs. The container itself can be decorative and add to the overall ambiance of a room.
Variety: Container candles are available in a wide range of scents, colors, and styles, making it easy to find one that suits your preferences and decor.
Pillar Candles:
Shape: Pillar candles are typically cylindrical in shape and do not require a container. They are solid candles that stand on their own.
Versatility: Pillar candles are versatile and can be used for both decorative and functional purposes. They are often used in candle holders, candelabras, or as centerpieces on tables.
Burn Time: While pillar candles may have a shorter burn time compared to container candles of the same size, they still provide hours of fragrance and ambiance.
Fragrance: Scented pillar candles release fragrance into the air as they burn. However, the scent may be less intense and diffuse compared to container candles since there is no container to trap and concentrate the fragrance.
Aesthetic Options: Pillar candles are available in various sizes and heights, allowing for creativity in creating decorative arrangements. They can also be carved or molded into intricate designs for special occasions.
Drip Potential: One downside of pillar candles is that they have the potential to drip wax as they burn, especially if they are not placed in a suitable holder. This can be managed with proper candle accessories.
Maintenance: Pillar candles may require occasional trimming of the wick to maintain a clean, even burn and reduce the risk of excessive smoke and soot.
In summary, scented container candles are convenient, long-lasting, and known for their strong fragrance, while pillar candles offer versatility and aesthetic appeal. The choice between the two depends on personal preferences and the intended use or decor of the space.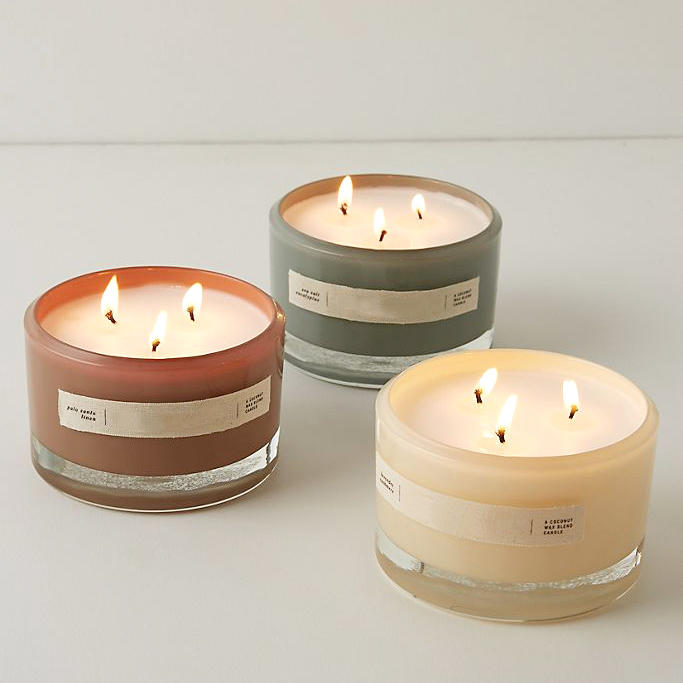 M&Scent Wholesale Luxury Private Label Scented Soy Candles Jars A29272