Reed diffusers
come in a wide variety of scents, offering something for everyone's personal preferences and creating different moods and atmospheres in your living space. Here are some common categories of scents you can find in reed diffusers:
Floral Scents:
Lavender: Known for its calming and soothing properties, lavender scents promote relaxation and stress relief.
Rose: Rose-scented diffusers offer a romantic and elegant aroma that is often associated with love and beauty.


Fruity Scents:
Citrus: Scents like lemon, orange, and grapefruit are invigorating and refreshing, perfect for creating a lively and uplifting ambiance.
Berry: Berry scents, such as strawberry or raspberry, add a sweet and fruity aroma to your space.


Woody Scents:
Sandalwood: Sandalwood diffusers have a warm, earthy, and slightly sweet scent that's often used for grounding and relaxation.
Cedarwood: Cedarwood diffusers offer a woodsy and calming fragrance that is reminiscent of a forest.


Herbal and Green Scents:
Eucalyptus: Eucalyptus diffusers have a fresh and invigorating scent that can help clear the sinuses and promote respiratory health.
Mint: Minty scents, like peppermint or spearmint, are refreshing and energizing.


Spicy Scents:
Cinnamon: Cinnamon-scented diffusers are warm and inviting, often associated with the holiday season and comfort.
Vanilla: Vanilla diffusers have a sweet, comforting, and cozy scent that is universally appealing.


Oriental Scents:
Patchouli: Patchouli diffusers have a musky and exotic aroma, often associated with relaxation and spirituality.
Amber: Amber-scented diffusers offer a warm and resinous fragrance that can be both comforting and sensual.


Ocean and Aquatic Scents:
Sea Breeze: These diffusers capture the fresh, clean, and breezy scent of the ocean, creating a serene and coastal atmosphere.
Rain: Rain-scented diffusers evoke the refreshing smell of raindrops on a summer day.


Seasonal Scents:
Pumpkin Spice: Often associated with autumn, pumpkin spice diffusers offer a cozy and spicy fragrance.
Evergreen: Evergreen diffusers bring the crisp and refreshing scent of pine trees, perfect for the winter season.


Exotic and Tropical Scents:
Coconut: Coconut-scented diffusers have a tropical and summery aroma that transports you to a beach paradise.
Mango: Mango diffusers offer a fruity and exotic scent that's perfect for creating a vacation-like atmosphere.
Custom Blends: Some reed diffusers come in unique and proprietary blends, combining different scents to create a distinctive fragrance profile.
When choosing a reed diffuser scent, consider the ambiance you want to create and your personal preferences. You can also change the scent seasonally or based on your mood to keep your living space fresh and inviting.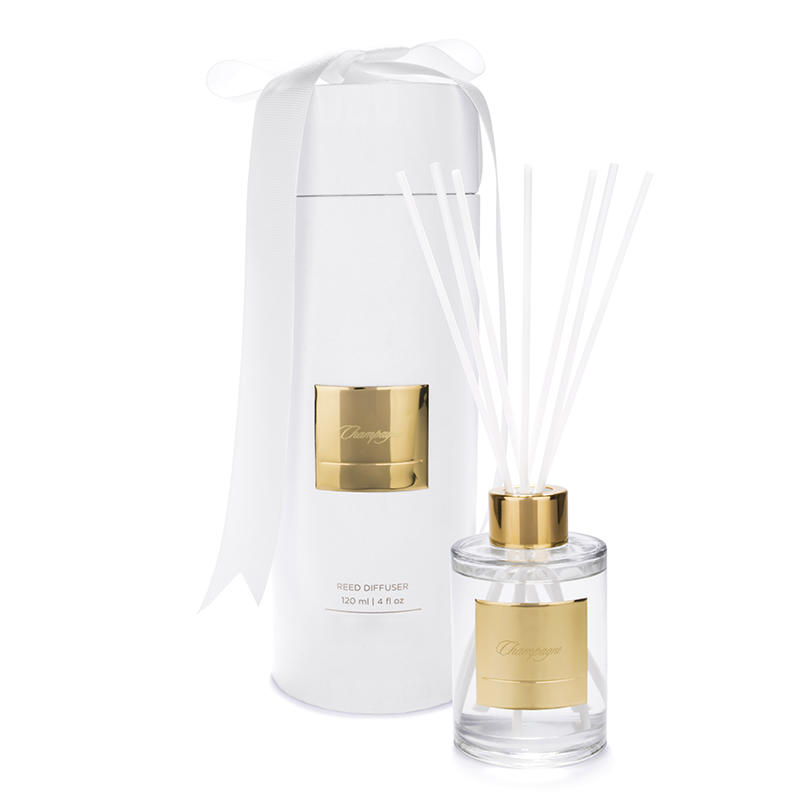 M&Scent Modern Green Tea Amber Bottle Reed Diffuser With StopperA29261-1