A Fragrance Reed Diffuser is a safe, eco-friendly, and simple way to add scent to any room in your home or office.
Unlike candles and incense, they don't require a flame or matches to use and can be left unattended while they fill your space with the aroma you desire.
The best reed diffusers will have a narrow neck so they don't let too much fragrance escape into the air. They're also made with non-toxic, alcohol-free fragrance oils that will last for up to 3-4 months.
You can also buy reed diffuser refills for extra fragrance, which will help save money and the environment. Be sure to check whether the reed diffuser you've chosen is refillable before purchasing it, as this will save you time and money in the long run.
What kind of reeds do I need to use with a reed diffuser?
Traditionally, reed sticks are made from rattan and bamboo, but you can also find synthetic reeds for scent diffusion. These are especially helpful if you want to use a variety of different oils. They're also cheaper and tend to last longer than rattan reeds, which are usually only available in very small quantities.
How often should I replace reeds in my reed diffuser?
Typically, reeds should be replaced every six months, but this will depend on the type of oil used. It is also a good idea to flip your reeds over once or twice a week to improve evaporation and prevent the reeds from getting clogged with dust.
When the reeds aren't diffusing the fragrance, try flipping them over in the bottle to see if this kick-starts the diffusion process. You may need to do this several times before you get the desired results, but it's a quick and easy way to boost your reed diffuser's efficiency.
How to choose a fragrance for your reed diffuser
When you're shopping for a reed diffuser, it is important to pick a fragrance that will suit the room where you'll use it. This will help you to create the right ambiance for your space and make it easier to enjoy the fragrance for longer.
For example, a bathroom might benefit from a fresh, clean scent whereas a guest room will need something floral and crisp. For a bedroom, you'll want to consider a relaxing or tranquil scent that will aid with sleep and help you wake up feeling refreshed and ready to face the day.
How to store your reed diffuser
When storing your reed diffuser, be sure to keep it out of direct sunlight and out of rooms with vents, fans, and drafts to avoid the fragrance escaping too quickly. It's also a good idea to place it away from radiators as heat can cause the fragrance to evaporate more quickly, so you don't end up running out of your favorite scents in the middle of the night.
The best reed diffusers are easy to use and provide a pleasant aroma for months to come, so they're an ideal choice for anyone looking for a more natural, low-maintenance way to fill their home with fragrance. Here are some of our favorite reed diffusers for every room in your house, from the entryway to the bedroom.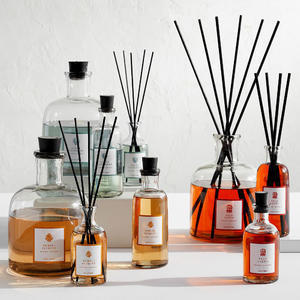 Wholesale Large Decorative Wood Sticks Luxury Reed DiffuserA29219-Valuables
Factory Item No:
A29219-Valuables
Product name:
wholesale large decorative wood sticks reed diffuser
Material:
High-quality Fragrance/Color box /Logo Label
Scent:
Based on customer's requirements
Box Size:
/
Bottle Size:
D60*H120MM
Volume:
120ml
Shelf Life:
2 years
Color Box:
OEM Acceptable
Logo:
OEM Acceptable
Product Weight:
PCS/CTN:
20pcs
Outer Carton Size:
Outer Gross Weight: