A reed diffuser is an effective, easy-to-use way to add fragrance to your home.
They require no heat or electricity, making them a great option for bathrooms, bedrooms, and other rooms where you don't want to have to worry about burning candles.
Reed Diffuser Care
Keeping your reed diffuser in good condition can prolong its life and ensure you get the most out of it. Read on for some essential tips to keep your diffuser in peak shape:
* Replace the reeds regularly (around once a week)
Replacing the reeds is a great way to get a fresh burst of scent and to prevent them from getting clogged up. This will make your diffuser work more effectively, so it's worth doing a couple of times a month or every time you use a new scent.
* Flip the reed sticks occasionally
To improve the diffusion of your aroma oil, flip the reeds over about once a week or so. This will help the reeds absorb the oil faster and disperse the scent more evenly.
* Clean the vessel and reeds frequently
A clean, non-porous surface is best for a reed diffuser. Avoid using a wood surface like a table or a sink because it can be rough on your reeds and could cause them to get clogged up. Also, be sure to wipe any drips or spills away to avoid staining your surfaces.
* Set the reeds up in a room with constant airflow
A room that has consistent airflow will allow your aroma oil to circulate and disperse the scent throughout the entire room. This is ideal for rooms that are constantly occupied, such as the living room or bedroom.
* Pick the right reeds for your diffuser
The quality of the reeds you use will impact the effectiveness of your reed diffuser. Rattan reeds are commonly used because they contain small channels that help the oils travel up the reeds to disperse the aroma into the air.
You can find reeds of different thicknesses, but thinner reeds are more effective for diffusing. Choose reeds that are about 3-4mm thick to ensure you get the most out of your reed diffuser.
* Keep the reeds out of direct sunlight
As you might expect, direct sunlight will affect the diffusion rate of your fragrance oil. Try to avoid putting your reed diffuser in a place where it might be exposed to direct sunlight, especially during the warmer months. If you must have it in the sun, position your diffuser in a cool shady location instead.
* Consider the number of reeds you use
The number of reeds you use will depend on the size of your room, how much fragrance oil you are using and whether you like a stronger or lighter fragrance. This will affect the overall effectiveness of your diffuser and how long it will last.
To assemble your reed diffuser, you'll need a bottle of fragrance oil and a container to hold it. You can use a glass or plastic bottle with a lid, though you should be careful not to overfill it. Once you have all the components, fill the bottle with oil and insert the reeds into the vessel. Once the reeds have been inserted, place the reed diffuser in the room and let it sit for about 24 hours. After that, flip the reeds over and watch your room come alive with your favorite fragrance!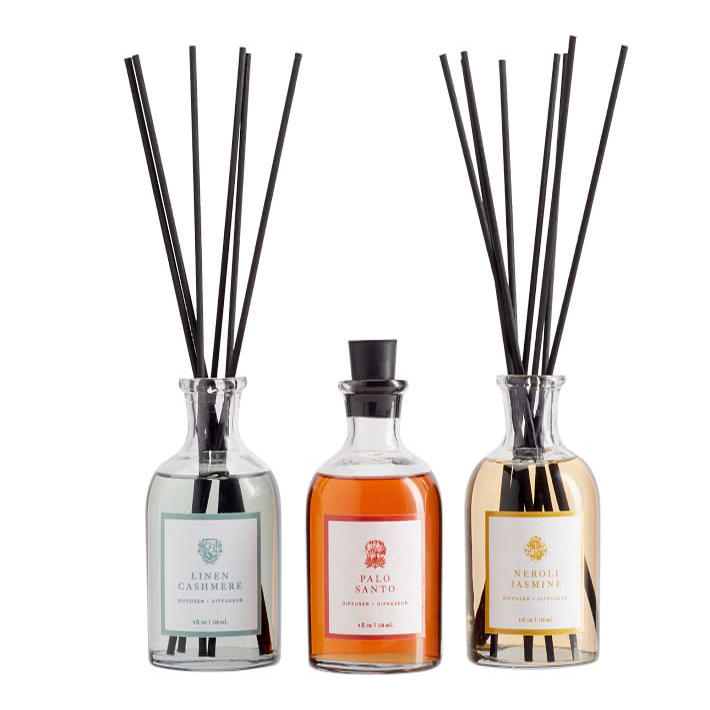 Wholesale Custom Hotel Black Aroma Reed Diffuser ThailandA29220-Export pass
Factory Item No:
A29220-Export pass
Product name:
wholesale custom hotel black aroma reed diffuser thailand
Material:
High-quality Fragrance/Color box /Logo Label
Scent:
Based on customer's requirements
Box Size:
/
Bottle Size:
D60*H120MM
Volume:
120ml
Shelf Life:
2 years
Color Box:
OEM Acceptable
Logo:
OEM Acceptable
Product Weight:
PCS/CTN:
Outer Carton Size:
Outer Gross Weight: