Aromatherapy sets
offer a wide range of therapeutic benefits through the use of essential oils, which are concentrated plant extracts known for their potential effects on the mind and body. Here are some of the therapeutic benefits associated with aromatherapy sets:
Stress Reduction: Many essential oils in aromatherapy sets, such as lavender, chamomile, and bergamot, are known for their calming and stress-reducing properties. Inhaling these scents or using them in a diffuser can help alleviate feelings of tension and anxiety.
Improved Sleep: Aromatherapy sets often include essential oils like lavender and cedarwood, which are believed to promote relaxation and improve sleep quality. Diffusing these oils in the bedroom can create a soothing atmosphere conducive to restful sleep.
Mood Enhancement: Aromatherapy can positively impact mood. Oils like citrus (e.g., lemon, orange) and floral scents (e.g., rose, geranium) are known for their uplifting and mood-enhancing properties. They can help combat feelings of sadness or low energy.
Headache Relief: Certain essential oils, including peppermint and eucalyptus, may help relieve headaches and migraines. These oils can be diluted and applied topically to the temples or inhaled for relief.
Respiratory Support: Eucalyptus, tea tree, and peppermint essential oils are known for their potential benefits in supporting respiratory health. Inhaling these oils can help clear congestion and ease breathing difficulties.
Pain Management: Aromatherapy sets may include oils like lavender, chamomile, and marjoram, which have mild analgesic properties. These oils can be used topically to alleviate minor aches and pains.
Focus and Concentration: Essential oils like rosemary and peppermint are believed to enhance mental clarity and concentration. Diffusing these oils in a workspace or study area may improve cognitive performance.
Immune Support: Some essential oils, such as tea tree and eucalyptus, have antimicrobial and immune-boosting properties. They can be diffused to help purify the air and potentially support the immune system.
Relaxation and Mindfulness: Aromatherapy sets are often used in relaxation and mindfulness practices. The act of inhaling pleasant scents and engaging in aromatherapy rituals can promote a sense of calm and presence.
Pain and Stress Management during Labor: Certain essential oils, such as lavender and clary sage, are sometimes used in aromatherapy to ease pain and reduce stress during labor and childbirth.
Skin Care: Some essential oils, like tea tree and lavender, are included in aromatherapy sets for their potential benefits in skincare. They can be diluted and applied topically to address various skin concerns.
It's important to note that while aromatherapy can offer these potential therapeutic benefits, individual responses to essential oils may vary. Some people may be more sensitive to certain scents, and allergies or skin sensitivities can occur. It's advisable to perform a patch test when applying essential oils to the skin and to use them in accordance with safety guidelines.
Aromatherapy sets can be a versatile and enjoyable way to harness the power of essential oils for physical and emotional well-being. Whether used for relaxation, mood enhancement, or specific health goals, aromatherapy offers a holistic approach to self-care and natural healing.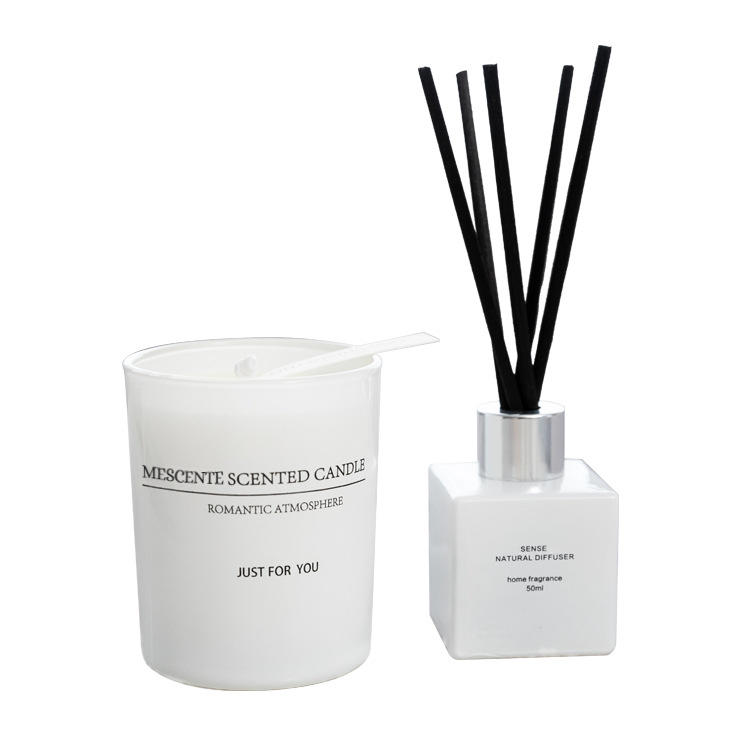 M&Scent Home Fragrance Reed Diffuser Gift Set With Scented Candle A99199