A reed diffuser is a simple yet effective way to add fragrance to any room. These aromatherapy devices don't require a flame, making them safe for use around children and pets.
A Reed Diffuser works by placing a small amount of essential oil in a bottle that is then filled with reeds. The reeds absorb the oil and diffuse it throughout the air to create a beautifully scented home fragrance.
You can buy them in a variety of sizes and styles from craft stores to online boutiques, but there are a few things you should know before buying one. The first thing is to make sure you buy a good quality diffuser that has a sturdy base and is made from glass or ceramic to prevent breakage during shipping or storage.
Another consideration is the reeds you choose for your diffuser. Unlike the cheaper reeds that come from bamboo, real rattan reeds are actually more effective for diffusing fragrance. They have nodes that work like tree knots and a diaphragm that separates the stem from the reed.
The reeds should also be made of natural fibers and not synthetic materials. This will help the reeds absorb and release the fragrance more evenly.
How To Use Your Aroma Reed Diffuser
Simply pour the desired amount of fragrance oil into the diffuser vessel, or if your diffuser comes with its own bottle of oil, fill it until it is just a little over half full (you can even start with less than this if you want to experiment with different scents). Then insert your reeds and let them soak in the oil for about an hour.
Flip your reeds every so often to help keep your diffuser fresh and fragrant. This will help to distribute the oil more evenly and disperse it throughout the air faster.
You can place your reed diffuser anywhere in the house, but it is best to place it where it won't be easily tipped over or knocked over by children and pets. Some common places to use your diffuser include entryways, bathrooms, bedrooms, and linen closets.
The diffusion rate of the oils is affected by a number of factors including temperature, airflow, and proximity to a heater or air conditioning unit. Avoid placing your reed diffuser near a radiator as this can cause the oil to evaporate quicker.
To make the most of your diffuser, flip your reeds over about once per week. This will help to spread the oil more evenly and disperse it more quickly, but don't flip them too much or the fragrance will become weaker over time.
A good rule of thumb is if you're using a reed diffuser in a smaller space, such as a bathroom, you should start with just a few reeds and add more as needed to get the desired level of fragrance. A diffuser with more reeds can fragrance larger rooms, but may not last as long.
A 100ml of diffuser oil should last about three to four months, but this will vary depending on factors such as humidity levels, temperature, and the location you have your diffuser placed. During this time, you should also keep an eye on the reeds to ensure they don't become saturated with oil or clogged. If this happens, it is best to replace them with new ones.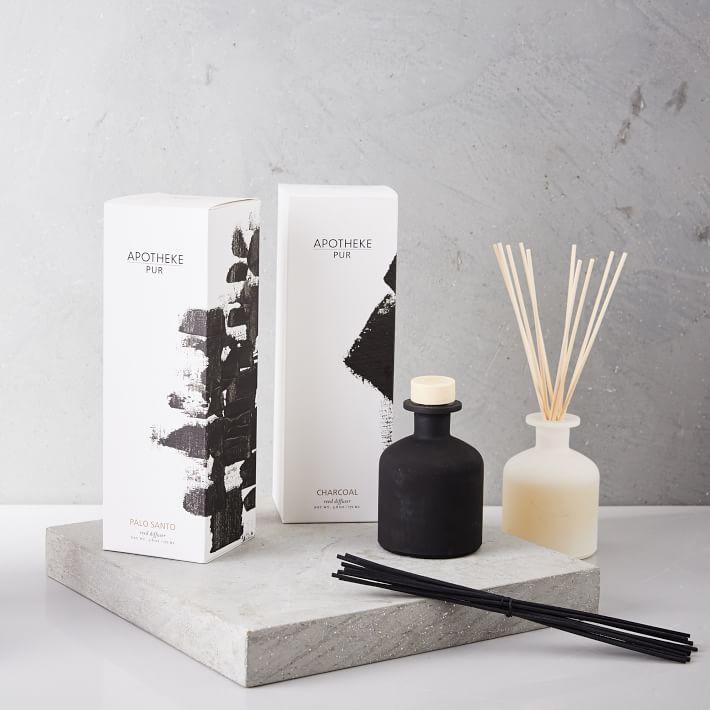 Mescente Luxury 180ml Customised Glass Bottle Essential Oil Reed Diffuser For Hotels
Factory Item No:
A99114
Material:
High-quality soy wax/Spray color
Scent:
Based on customer's requirements
Color Box Size:
82*82*265mm
Cup Size:
D80*H113MM
Wax Capacity:
180ml / 

6.1

oz
Burn Time Lasts:
46 Hours
Handmade:
Yes
Logo:
OEM Acceptable